Business English
Course duration: 28 hours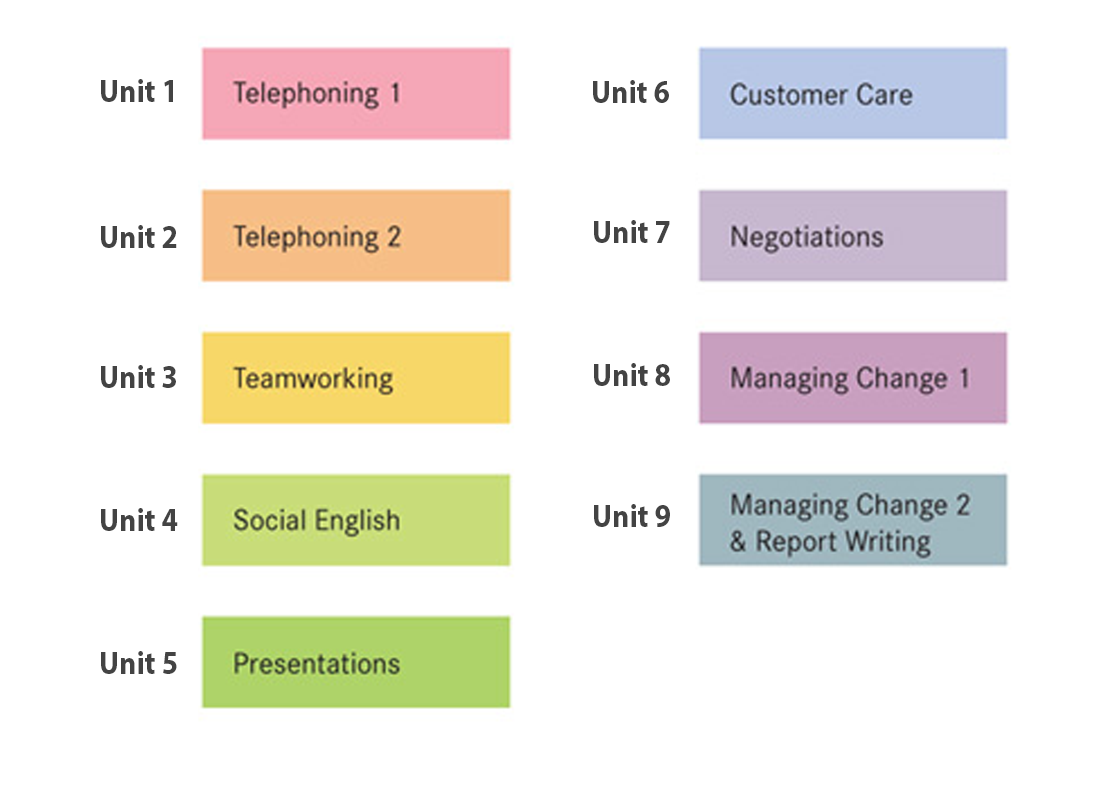 Direct English Business English is tailored specifically for working adults / corporate clients / professionals who wish to brush up their Business English and communications skills. The course aims to build confidence among working adults and professionals in carrying out their important business functions at their workplace. There are nine units in Business English, covering all the skills needed for the participants to enhance their ability to use English more competently and professionally in a business environment.
Business Writing
Course duration: 16 hours
The following learning outcomes have been defined for the Business Writing
workshop/programme:
The value of good written communication / business writing
How to write and proofread your work so it is clear, concise, complete, and correct
How to apply business writing skills in real-world situations.
The proper format for memos, letters, emails and reports
Course Outline:
Introduction to Business Writing
What does good business writing look like?
Understanding the audience, purpose and objectives
Tools that help you write better
Proofreading
Sentence Stylistics
E- mails and memos
Writing Task – understanding audience, purpose and objective
Hands-on writing session
Direct English with 8 Proficiency Levels
Course duration: 28 hours per level
The Direct English course contains 8 levels (excluding the Foundation Level which serves as the basic level). Each level consists of 9 units and each unit comes with three lessons (with a total 27 lessons per level). Using the highly proven and successful Direct English Learning System, each level could be completed with 85 learning hours (or 28 contact hours).
LEVEL
UNIT
NO.OF LESSONS
LEVEL OF PROFICIENCY
Level 8
9 units (Unit 64 – Unit 72)
27 lessons
Advanced
Level 7
9 units (Unit 55 – Unit 63)
27 lessons
Level 6
9 units (Unit 46 – Unit 54)
27 lessons
Intermediate
Level 5
9 units (Unit 37 – Unit 45)
27 lessons
Level 4
9 units (Unit 28 – Unit 36)
27 lessons
Level 3
9 units (Unit 19 – Unit 27)
27 lessons
Elementary
Level 2
9 units (Unit 10 – Unit 18)
27 lessons
Level 1
9 units (Unit 1 – Unit 9)
27 lessons
Foundation
3 units (Unit F1 – Unit F3)
9 lessons
Beginner
The course also comes with a learning pack (for each level) that consists of Study Guide, Course Book, Companion, Workbook, PC Video Disc and Audio CDs. Besides the packs, learning is also supported by Direct English Live!
Presentation Skills
Course duration: 14 hours
This module is designed to assist you improve your ability in making effective business presentations. The objective of the module is to help you to plan, prepare and deliver presentations confidently and effectively. It is designed to guide you through the proper methods of:
Planning
Organising
Delivery
Other aspects of presentation to be delivered under this module are:
Techniques for controlling nerves during presentations
Use of structures when writing presentations
Developing a fool-proof presentation preparation check-list
Appreciating the importance of body language and vocal control
Developing your own style of presenting
Working with technology
Understanding and using new ideas and approaches to presenting
Developing new skills
Improving current skills
Customer Service
Course duration: 14 hours
Customer Service is an add-on module that is designed to help you improve your ability in providing excellent customer service. The objective of the module is to help you to plan, prepare and deliver good service confidently and effectively. It is designed to guide you through proper methods to be an excellent customer service representative in the future. Aspects of this module are:
Why customer service is so important
Customer insight and service excellence
The service offer and the customer promise
The customer's journey
Customer loyalty and value
Communicating with customers
The emotional component of service
Resolving problems and improving service
Malaysia Core Values And English Language Training (MyCOVELT)
Course duration: 14 hours
MyCOVELT is a programme that addresses the need for employees to be equipped with life skills that focus on Character Building by bringing back Core Values.
The programme also gives emphasis on English and Communication Skills which are essential for the employees to enhance their performance.
In essence, MyCOVELT has the ultimate aim of enhancing the competency, productivity and quality of employees in any organisation that would also ultimately raise the employees' overall performance and competitiveness.
There are eight modules in MyCOVELT, with five focusing on Core Values while the other three viz. Social English, Negotiation and Customer Care are modules taken from the Business English (Direct English UK) course.
Besides the eight core modules, there are also two supplementary modules viz. Personality Grooming and Problem Solving & Decision-Making Skills made available for the participants as value-added options.